I am often asked how I became interested in shoeing horses. Let's go back even before that, back to how I became interested in horses.  I've always been a person who's fascinated with the horse.  Even before I knew anything about them, I loved them.  Reading Louis L'Amour when I was a kid, in my mind I became the main actor.  Heading Out West to see country that no white man had seen before on the back of a horse with the grandest view that which is between his ears.I got my first start around horses by cleaning up after them… lots of them!  I started work on a Standardbred breeding farm when I was fifteen.  In the beginning it was supposed to only be a job for the summer, ending when school started in the fall.  However, I became hooked on them.  During that first summer, I went from cleaning out their stalls to feeding them and looking after them.  As school started my hours fell back dramatically, but I was able to continue working after school a couple of hours and on the weekends.  As time went by I learned more about these animals I loved so much and my love just grew as I learned.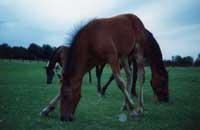 All this time I hadn't seen or realized that horses had feet that required attention from someone.  I knew that in the "Olden Days" a blacksmith or horseshoer took care of the horses but I thought those days were long gone like the "Old West." I didn't know there were people that still provided service to these horses just as they had years ago.  Only now they are called horseshoers or "farriers".  That was a new one for me…farrier…I thought what's a "fairy" anyway?  But they say experience is a good teacher and I must have been a good student.  About the time I could say "farrier" correctly, I got to see one work.  He came to the barn maybe twice a year to give the yearling colts and fillys their first and second trim before the yearling sale.  I was to break the "weaners" and get them to lead and pick up their feet in anticipation for having their feet trimmed.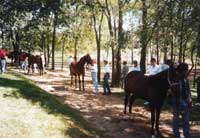 When the time came and the horseshoer was there, I would usually hold the yearlings or occasionally I'd hold the trimming tools for the shoer.  As I watched the shoer work, I was in awe.  It looked easy yet complicated at the same time.  How did he know what to do?  Where to cut?What to leave?  But it looked so easy…he just bent down, asked for a foot and put it between his legs or across his lap.  And the smell – I loved it!  Not that of thrush but freshly nipped and rasped hoof.  I began to imagine me doing what I was just watching.  But how?  This shoer was older so I thought…maybe he was the last of them.  Could he teach me?  Would he want to?  Where would I get my tools…did they still make them?Few of my many questions never got answered then and soon I'd be graduating high school and after graduation, the next four years of my life where already accounted for via the Marine Corps.

After a successful tour of duty I was discharged from active duty and went back to my home state.  Whereupon I went back to the breeding farm I'd known for so long.  My old job was still there, nothing had changed much and I just walked back into it.  I loved it but it was a job without much room for promotion.  I was going back and forth with what I wanted to do with my life – college or a "factory" job.  Neither appealed to me as much as what I did there on the farm.  Then the horseshoer came for the yearling trims!  It was deja vu only I wasn't so shy.  I asked him about shoeing, working as a shoer and well, work in general.  He answered all my questions and I was intrigued.  Then I asked if I could go around with him.  He said "no but yes." I was confused. He explained it to me like this:  If I was serious enough about it and wanted to learn, I would first have to go to school and if I made it and successfully passed the school, he'd let me go around with him.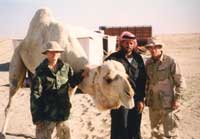 I attended Wolverine Farrier School, which was the only school the farrier I wanted to work with recommended. It was a long established, highly successful farrier school that was taught by an International Hall of Fame farrier. This school was twelve weeks and provided a solid foundation of the basics in which to build on with continuing education and experience. I attended WFS in January 1996. Following the completion of school I apprenticed for a year with the farrier that originally had recommended the school to me. After that I slowly picked up my own clients and worked part time at the breeding farm.
The Marine Corps called me back in April 1998 and I came out to California. When the Corps didn't have me busy, I was able to hook up with a farrier though the San Diego County Farriers Association (SDCFA) that was close to where I was stationed and I was able to continue my education and learning. Following the end of my second tour of duty, I stayed here in California.
I continue my education by attending many clinics and seminars. How many? The short answer is all that I can – typically at least three per year, some lasting several days. In this field of science and technology, things are always being tested, proven or disproved. Not to mention there are so many little "secrets" that it is worthwhile to learn them.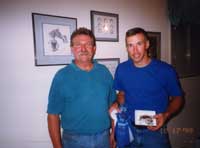 I read as many publications as I can that are written in English. Professional Farrier, American Farriers Journal, Natural Angle, Hoofcare and Lameness come to mind for publications and Corrective Farriery, The Principles of Horseshoeing II, Practical Guide to Lameness in Horses, etc for books. It's important to note that there are a lot of people out there with opinions and it is well to keep that in mind in reading and understanding what is being written. What works for one horse may not be the best thing for another but that is why these clinics and publications are so important, so you have ideas that you can compare against.
So you may be wondering what some of my beliefs are when it comes to shoeing a horse. That's a loaded question if I ever heard one! Basically I believe there are two important things to keep in mind. First, keep the horse sound. Whether the horse is barefoot or shod you want to trim and/or shoe to the needs of the horse. Especially in mature horses, you don't want to go "correcting" something that wasn't meant to be into a 'textbook' perfect foot. It may take a few cycles to get the horse back to his correct conformation but once there, that's usually where they are the soundest. Many horses out there may be lacking something or needing protection and this should be where the "corrective" or "therapeutic" shoeing comes into play. But if all they need is a good well balanced trim or well placed shoe, then leave it at that. Don't try to make something out of nothing or you may end up with more than you wanted. Second, and this goes along with what I just elaborated on, keep it simple.